UPDATE: Click here for a list of the Award Recipients. Click here to see photos from the event.
The 5th biennial ACTRA Awards Manitoba ceremony will be presented and streamed live on Saturday, May 15th at 7 pm via our ACTRA Manitoba Facebook and YouTube pages.
Be sure to log in to your Facebook/YouTube accounts when watching the broadcast to join the chat and connect with other viewers.
Hosted by Chelsey Mark and Jane Testar.
Chelsey Mark is an actor, writer, filmmaker and international television celebrity whose recent acting credits include Tales from the Loop, Burden of Truth, Tribal, Snowkissed and feature film The First Encounter. Chelsey was one of five finalists in the Gimli Film Festival's RBC Pitch Competition (2020). His short film Vengeance (2020) won Best Film, Best Director, Best Screenplay and Best Actor in the Winnipeg Film Group's 48-hour film competition. After a prolific 8 year career in China where he became the official TV personality and emcee for NBA Made in China – travelling the world and interviewing countless NBA legends – Chelsey returned to Manitoba in 2018 and has immersed himself in our film and acting communities. www.chelseymark.com
Jane Testar is a veteran actor and improviser, performing for the past 19 years with the musical improv troupe Outside Joke, and the Canadian Comedy Award-nominated sketch troupe, Hot Thespian Action. She lovingly describes herself as a "greedy little performer and wants to do it all!" Jane writes regularly for CBC Radio and was known as a modern etiquette expert with her radio column Miss Conduct. She is a member of the Fu Fu Chi Chi Choir, and has appeared on Winnipeg's theatre stages including PTE, Cercle Moliere and RMTC. Jane is currently the host of the CBC Comedy Factory Podcast, and co-created a radio special about body acceptance called The Bod Pod.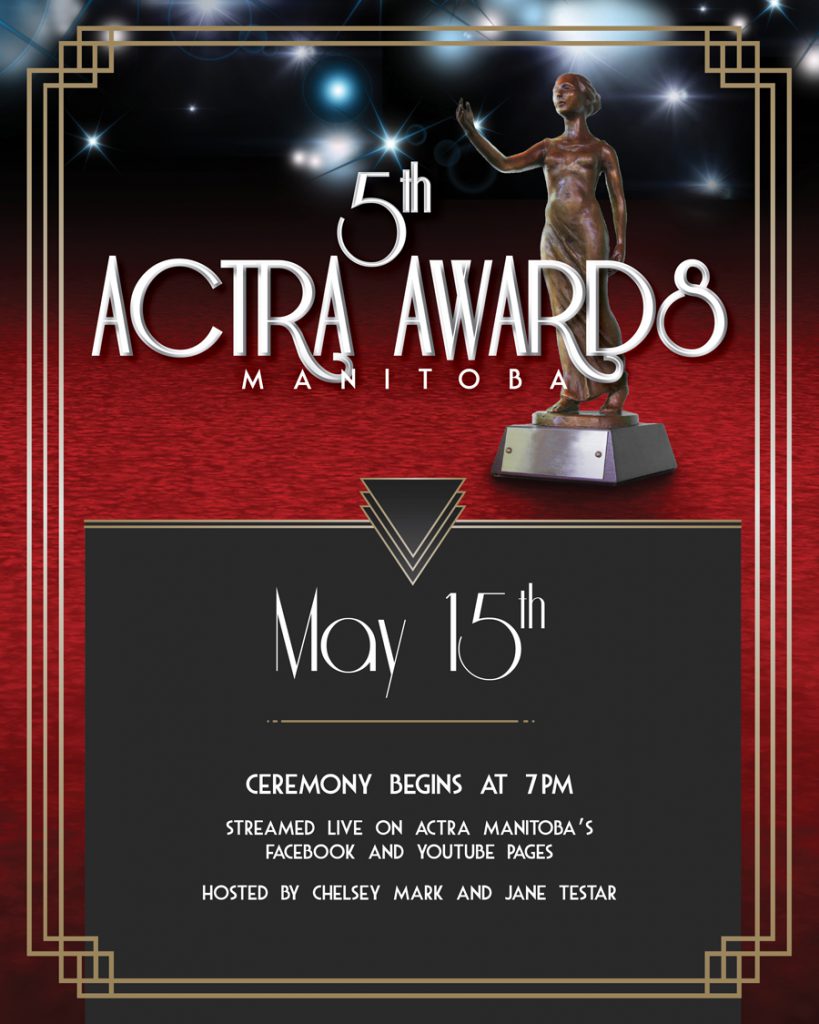 NOMINATIONS
The 5th ACTRA Manitoba Awards were given to members who performed in productions that were released in 2018 or 2019. Juries were engaged to review numerous submissions and nominate members for their outstanding performance in the seven (7) categories. Jurists commented on how difficult the process was because of the high volume of submissions and the high quality of work.

Outstanding Female Performance in a Short Film:
Susan Loewen – A Mother's Love
Nancy Sorel – Platypus
Natalia Longley – Bebe Blue
Doreen Brownstone – Therapy
Stephanie Sy – Find/Love

Outstanding Male Performance in a Short Film:
Frank Adamson – Abyssinia
Jonathan Lawrence – Alter Boys
Ryan Miller – Down a Peg
Aaron Merke – Lughead
Cory Wojcik – The Job

Outstanding Female Performance in a Series Episode:
Annelise Pollmann – Channel Zero: Butcher's Block
Lauren Cochrane – Nikola Tesla and the End of the World
Stephanie Sy – Nikola Tesla and the End of the World
Sharon Bajer – Wynter
Sara Thompson – Burden of Truth – Season 1

Outstanding Male Performance in a Series Episode:
Dave Brown – Burden of Truth – Season 1
Skye Pelletier – Burden of Truth – Season 2
Bradley Sawatzky – Channel Zero: Butcher's Block
Aaron Merke – Channel Zero: Butcher's Block
Chris Sigurdson – Burden of Truth – Season 1

Outstanding Female Performance in a Feature Film:
Sharon Bajer – Escaping the Madhouse: The Nellie Bly Story
Lisa Bell – Stand!
Annelise Pollmann – Fatal Friend Request
Lauren Cochrane – Fractured
Jaydee-Lynn McDougall – Into Invisible Light
Stephanie Sy – The Perfect Match

Outstanding Male Performance in a Feature Film:
Eugene "GeNie" Baffoe – Ruthless Souls
Dave Brown – The Parts You Lose
Cory Wojcik – Night Hunter
Tristan Carlucci – Stand!
Paul Essiembre – Stand!

Outstanding Stunt Performance:
Kristen Sawatzky, Alan Castanaga, Jeff Strome and Richard Thomas (Ensemble) – Fractured
Rick Skene – Fractured
Rick Skene – How It Ends
Terry Ray – Night Hunter
Kristen Sawatzky – We Summon the Darkness