BORN: JAN 03, 1929
Doreen Brownstone on Lou Kliman:
"Lou was my unpaid, unsung agent. Years ago, there was an open air pool, and I was in charge of it – I was a swim instructor there. He used to come and spend his summers hanging out. He gave my name to Jack Shapiro at Rainbow Stage – they were doing Fiddler on the Roof. I became Yentl the Matchmaker, like forever – I've done it how many times now. [laughs] And then, he gave my name to CBC, the television people, and Lou got me going in this business. I had done a lot of amateur stuff, but I didn't do professional things, and HE got me started. Lou was a lot of fun, larger than life."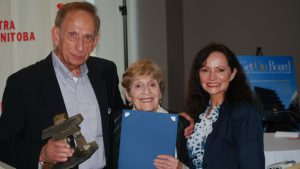 Lou Kliman accepting the Vic Cowie Lifetime Achievement Award from Doreen Brownstone and Talia Pura.