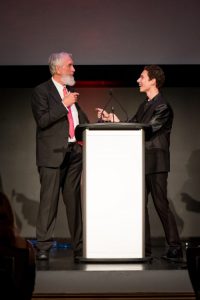 First, let me clear something up; I very well do know who Fred Penner is! For those of you who missed out on the 2016 ACTRA MB Awards Gala, we were joined by many appreciated members of the community who strive to bring out the best in our Union and in doing so create a positive impact in our community. One of these great people, a legend who shows unique talent in all he does and continues to set positive examples for all around him, Fred Penner. I was grateful to have the utmost privilege to present with Mr. Penner at the Awards this past Saturday. We had a conversation planned out where Mr. Penner would casually give noteworthy advice and demonstrate what a great example he sets for the younger generation, whilst I, the younger generation, end up not even knowing who he was! We even enjoyed the audience's involvement in singing a verse of one of his hit songs, "The Cat Came Back". It was a pleasure to have Mr. Penner attend the ACTRA Awards this year, and I always appreciate the sound advice given from such an inspirational figure.
The Young Emerging Actors' Assembly of Winnipeg enjoyed being a part of this year`s gala; we would like to thank the volunteers who helped in making the event run smoothly, and all members of the community for attending, helping our Union grow, and for enjoying some sweet macaroons on your way into the event. We look forward to seeing growth in our Union and in the YEAA Winnipeg committee, as we continue to plan our next events, jot down ideas and soon, get your thoughts on multiple subjects.
The 2016 ACTRA MB Red Carpet Awards Gala is a warm environment of people who have similar interests and are most definitely supportive of one-another. It was great seeing not only ACTRA Members attend the event, but also individuals who are a part of our industry in any other way. People of various ages, talents and backgrounds all coming together for a great night of fun and laughs; everyone is welcome and the memories made are cherished.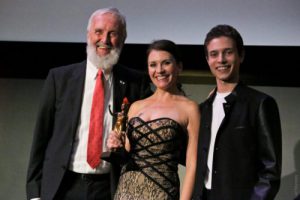 Be sure to keep your eye out on updates from all the social media pages involved in our community (if you are unsure of what social media pages are a good follow, see who we follow!); and read your emails! We know that it may be a hassle sometimes to filter through your inbox, but it is a great way for us to get a large amount of important and interesting information out to you. If at any time you have an idea you wish to propose or thoughts you have on a subject of our industry or community, don't be shy! We will be having a survey sent out in the future but feel free to contact us any time.
We wish you all the best and more as we move into the next season (get it…season? pun intended!), and always look forward to hopefully seeing even more members step out and be active in their Union and community. Always remember, sandwiches are beautiful! And so are you. 🙂
~Nazariy Demkowicz